Congratulations Eastern Graduates!
During these stressful times, it's important not to lose sight of your accomplishments as you're about to become a graduate of Eastern Connecticut! Due to the current situation, you will not be able to purchase your cap and gown at the Eastern Bookstore as originally planned.
However, to help commemorate your hard work and commitment, you can order your cap & gown to ship directly to your home address.
You will have your cap & gown to take photos and share with family and friends; wear at the celebration event once it is planned; and have a keepsake of this important milestone.
Questions? Contact the Eastern Bookstore: sm751@bncollege.com or 860.465.5283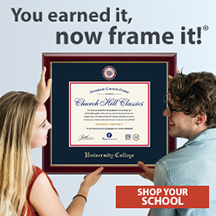 *Please note: Group orders will not be accepted. Only one complete package may be purchased per order.*
**Please note: You may return your souvenir regalia unopened within 30 days and we will gladly refund you the purchase price less shipping. All returned items must be unopened and in their original packaging.**