Congratulations Eastern Graduates!
---
THIS WEBSITE IS FOR SHIP TO HOME ORDERS ONLY
You can order on this website to have regalia shipped to your home address for a $15.95 shipping and handling fee.
THE EASTERN BOOKSTORE WILL HAVE REGALIA AVAILABLE FOR SALE BEGINNING APRIL 19, 2023
There are NO shipping and handling charges to purchase your regalia at the bookstore.


Last day to order: Sunday, April 16, 2023
Commencement:
Graduate Students: Saturday, May 13, 2023
Undergraduates: Tuesday, May 16, 2023
Questions? Contact the Eastern Bookstore: sm751@bncollege.com or 860.465.5283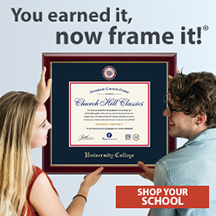 *Please note: Group orders will not be accepted. Only one complete package may be purchased per order.*
**Please note: You may return your souvenir regalia unopened within 30 days and we will gladly refund you the purchase price less shipping. All returned items must be unopened and in their original packaging.**